China Datang releases carbon peak and carbon neutrality action plan
2021-06-25 Zhou Gang/Jin Nan/Zhao Peng/Yang Weiqiang
---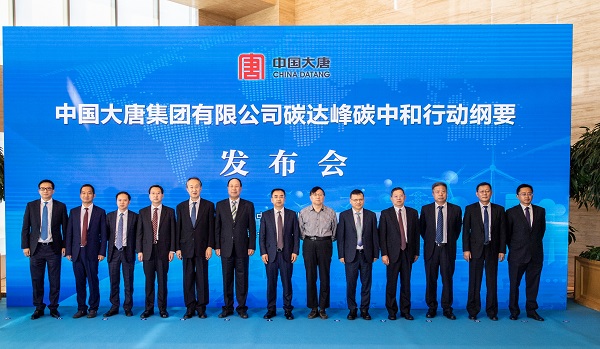 On June 22, China Datang Corporation Ltd. held a press conference in Beijing to officially release the China Datang Corporation Ltd. Carbon Peak and Carbon Neutrality Action Plan (hereinafter referred to as the "Action Plan"). As an important implementer and promoter of the national "dual-carbon" strategy, China Datang strives to build a world-class energy supplier committed to green low carbon development and energy mix diversification, through efficient collaboration and digital wisdom, contributing to the China's economic and social green transformation and sustainable development.
CDT Chairman Zou Lei delivered a speech at the press conference. He pointed out that as a super-large energy company, it's China Datang's mission and responsibility to achieve the "dual carbon" goal, which is also its major opportunity and inevitable choice. China Datang will make every effort to promote the implementation of the Action Plan, adhere to innovation-driven development, accelerate digital transformation, follow market-oriented operations, and participate in the construction of carbon trading markets.China Datang will stick to open cooperation and create a green, low-carbon, high-quality development ecosystem and friends circle under the principles of extensive consultation, joint contribution and shared benefits. It will promote the construction of clean, low-carbon, safe and efficient energy system and new power system featured by renewable energy, in an effort to contribute to achieving "dual-carbon" goal on schedule and building a beautiful China.
Yue Guangxi, an academician of the Chinese Academy of Engineering, said that China Datang has carried out in-depth and systematic research on the carbon peak and carbon neutrality and released the Action Plan, which demonstrates the corporate social responsibility. Liu Jizhen, an academician of the Chinese Academy of Engineering, expressed the hope that China Datang will further optimize the energy structure, vigorously develop clean energy, strengthen innovation, promote the integration of production, education, research and application, and strive to be the pioneer of energy transformation and energy technology development.
Li Ye, Supervision Director of the National Energy Administration, and Zhao Penggao, Deputy Director of the Environmental Resources Department of the National Development and Reform Commission, attended the press conference and delivered speeches respectively. They pointed out that China Datang's release of the Action Plan is an important measure to actively fulfill social responsibilities and practice the concept of green development. They hope that China Datang will give full play to its advantages as a leading company in the industry and actively participate in a new round of industrial and technological revolution characterized by green and low-carbon.
At the press conference, Peng Yong, vice president of CDT, made a detailed presentation on the overall objectives, implementation paths, and practical measures of the Action Plan. According to the overall objectives, China Datang will focus on the three major paths and solidly promote ten key measures, so as to ensure that the goal of carbon peak and carbon neutrality can be achieved on schedule.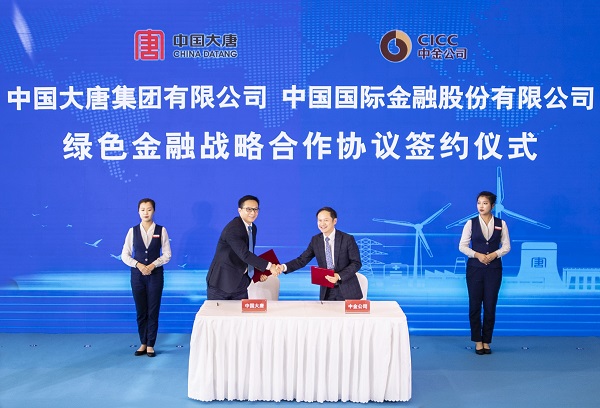 Peng Yong and Xu Yicheng, Vice President of China International Capital Corporation signed the China Datang Corporation Ltd. and China International Capital Corporation Green Finance Strategic Cooperation Agreement. The two parties will carry out comprehensive strategic cooperation in the fields of carbon fund, carbon neutrality bond.
At the same time, on the basis of Datang Carbon Assets Co., Ltd., which has more than ten years of experience in the carbon market industry, China Datang integrated the resources of the entire group and unveiled the establishment of China Datang Green and Low-Carbon Development Co., Ltd., transforming experience advantage into platform advantage to promote carbon peak and carbon neutrality, which will further accelerate the implementation of the Action Plan.
CDT Director and President Kou Wei presided over the press conference. CDT Director Shi Jialin and Vice President Qu Bo and relevant individuals attended the press conference.