China Datang and EDF join hands to promote green low-carbon development
2021-06-22 Zhou Gang/Zhao Peng/Yang Weiqiang
---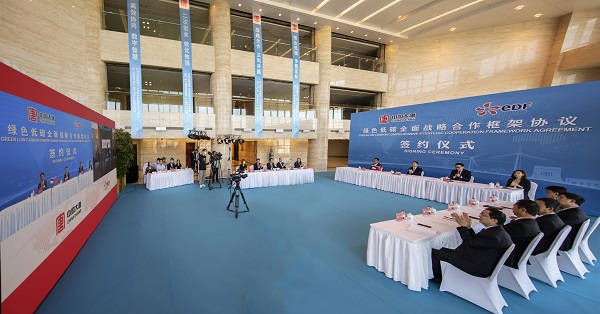 On June 18, CDT Chairman Zou Lei and Jean-Bernard Lévy, Chairman and CEO of EDF, conducted in-depth and friendly dialogue through cloud videos from Beijing and Paris respectively. The two sides renewed their friendship and reached broad consensus on the future green low-carbon cooperation, and jointly signed Green Low-Carbon Overall Strategic Cooperation Framework Agreement between China Datangand EDF.

Peng Yong, Vice President of CDT, presided over the signing ceremony. Fabrice Fourcade, vice president of EDF and president of EDF China, and Buffon, executive vice president and general manager of International Department, witnessed the signing of the strategic cooperation agreement.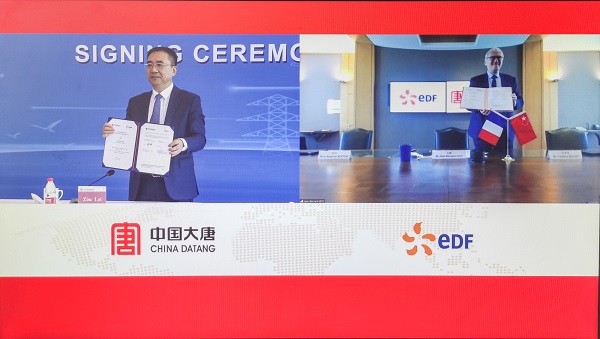 Zou Lei stated in the dialogue that tackling climate change is the common cause of China and France and countries around the world. As an important energy company in China, China Datang actively responds to Chinese President Xi Jinping's proposal of achieving carbon peak and carbon neutrality. Guided by the philosophy of ecological civilization with the core concept that "Green is gold", China Datang prioritizes ecological development and sticks to green low-carbon development path and strives to build a world-class energy supplier committed to green low carbon development and energy mix diversification, through efficient collaboration and digital wisdom. China Datang promotes the construction of a clean, safe and efficient energy system and a new type of power system. China Datang and EDF have a long history of cooperation and deep friendship. It is hoped that both parties will adhere to openness and win-win cooperation, further innovate cooperation models, give full play to the advantages of resource synergy, and increase cooperation on clean energy, energy storage and integrated energy service projects in the global energy green low-carbon transition. Both parties will adhere to collaborative innovation, deepen cooperation in green low-carbon technology innovation, and vigorously promote the R&D and industrial application of low-carbon, zero-carbon, and negative-carbon green technologies. They will also adhere to exchanges and mutual learning in terms of corporate governance, brand image building and talent training, and continuously enhance the core competitiveness of enterprises, jointly grasp the major changes and opportunities in the "dual-carbon" era. They will work together to build a closer green low-carbon development partnership, promote the construction of world-class enterprises to create arole model of Sino-France energy cooperation.
Jean-Bernard Lévy briefly reviewed the history and achievements of the cooperation between EDF and China Datang. He said that EDF actively complies with the international situation of green and low-carbon development, participates extensively in global carbon emissions reduction, and promises to achieve the goal of carbon neutrality by 2050. China Datang is an important strategic partner of EDF. Both parties have had a happy cooperation in the construction of Jiangxi Fuzhou and Henan Sanmenxia power plants and have achieved remarkable results. It is hoped that on the basis of the existing good cooperation, the two parties will further strengthen communication, enhance strategic mutual trust, deepen cooperation in green and low-carbon energy projects, jointly develop third-party markets, actively promote technological innovation, exchanges and cooperation of technical talents, and share development experience and market resources to promote all-round cooperation to achieve more fruitful results.
Heads of relevant departments of China Datang and EDF attended the signing ceremony.