Gaojing Thermal Power Plant
---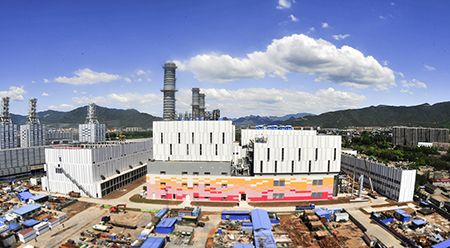 Beijing Gaojing Thermal Power Plant, which belongs to Datang International Power Generation Co., Ltd., was founded in 1959 and is the only thermal power enterprise in Beijing owned by CDT and Datang International Power Generation Co., Ltd. As an important power and heat supply source in the west of Beijing, the power plant was completed and put into operation in 1974. It has the first high-temperature and high-pressure 100MW unit designed and manufactured by China. It is the first to implement centralized unit control with an installed capacity of 600MW. Supplying 1/3 power for the capital city, it is one of the most advanced large-scale thermal power generation enterprises in China. Since its establishment, it has successively won the honors of "the Capital's Industrial Construction Window", "National Advanced Energy-saving Enterprise", "National Power Corporation First-class Thermal Power Plant" and etc..
In order to better guarantee the power and heat supply for the capital, since 2001 the power plant has successively invested more than 1.7 billion yuan (RMB) on heat supply retrofit and environmental protection upgrade, such as DeSOx, DeNOx, bag dust removal. With heat supply area exceeding more than 12million square meters, it became one of the most environmentally friendly power plants in China at the time, with the most complete types of environmental protection equipment, the most advanced technology and the best performance. It successfully completed the power supply tasks for major events like 2008 Beijing Olympics and APEC summit, and won the honor such as "Special Contribution Award for Environmental Quality Guarantee for Olympic Games and Paralympics" granted by Beijing municipal government.
Gaojing CCGT Cogeneration Project was launched in June 2012. It built a total of three 350MW CCGT cogeneration units, totaling 1380MW power generation capacity. It has a heating capacity of 962MW, a heating area of 19.24 million square meters, and an average annual power generation of 6200 Gwh. The unit efficiency and waste heat boiler technology have reached the world's advanced level.